"The United Methodist Church is a denomination in crisis." 
"Mainline denominations are outdated and irrelevant." 
"Congregational Christianity is at its end, soon to be a thing of the past."
Or, at least, so we have been told. In one way or another, each of the above statements is true. But, broadly…Read More »
---
The simplest and most common way to understand the essentials of Calvinism is to use the acronym TULIP. This acronym describes the "five points" of the theology of John Calvin, and is relatively easy to memorize.
As simple as that is, though, it is important to remember that not everyone who…Read More »
---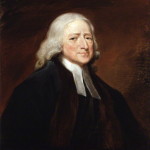 Please note: this timeline is under construction, and is therefore incomplete. The data has not yet been reviewed for accuracy.
These sermons are numbered according to the system utilized in The Works of John Wesley. In reviewing the timeline, keep in mind that these sermons comprise a structured set…Read More »
---